Product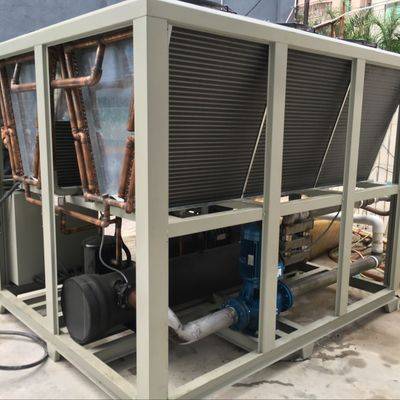 Top chiller TPAS-260ASH High Efficient Air Cooled Screw Chiller Machine For food process industry
Minimum Order : 1&nbsp,&nbspPieces
Large capacity 7C- 35C Degree Air Cooled Screw Chiller Machine 2100*1200*2230mm
Quick Detail:
1. Temperature controlled7-35℃,precision controlled ±2℃
2. Max. Running current:89.5A
3. Refrigerant charge:36KG
4. Certification:CE & ISO
5. Compressor type: Semi-enclosed screw-type
6. Refrigerating capacity: 120400Kcal/h
7. Warranty:1 year
Description:
Compressor high and low voltage protection, internal overheating protection

Low water flow alarm devices: Low water temperature anti-icing alarm

Compressor imported from Europe, America and Japan(Hanbell Levin Beverly)

Oxygen-free welding from refrigeration system, reduce the oxides and smooth the surface

Denmark Danfoss and USA Eco throttle components

Denmark Danfoss solenoid valve filter

Stainless steel plate, coil type, shell and tube, finned high efficiency heat exchanger

RS485 communication function for automated management(optional)

Brands OMRON, FUJI, TE, LG, MOELLER, ABB and WEST for electric appliances

Control mode: imported microcomputer or PLC(optional)

Perfect safety protection, fault display, easy repair and maintenance even without professionals

High-efficiency evaporator and condenser which can save energy by more than 30%

Temperature control range:7-35℃, Temperature control accuracy:±2℃

Product Description:

Unit adopts Germany BITZER or Taiwan HANBELL brand semi-hermetic screw compressor. The latest 5 to 6 patented screw rotor profile with excellent efficiency.

Adjustable infinite or closely stepped capacity control, features energy efficient, stable and quiet running.

Most advanced patented highest precision manufacturing process.

Built-in full intelligent monitoring and protection including thermal motor temperature monitoring, phase sequence monitoring, manual reset lock-out, oil temperature sensor.

Wide range of refrigerant for option, including R134A, R407c and R22(R404A, R507c upon request).

Microprogramming Control System

Industrial PLC centralized control combined with compressor capacity control system, precisely monitor.

Integrated protection for low temperature, high/low pressure, anti-freezing, phase missing, anti-phase, overload, motor over temperature, oil differential, flow switch, start up latency.

Optional operation language, menu leading, unit running state easy to adjust.

Easy Installation, Reliable Running

Closely stepped start-up, minimize impact to electricity.

Steady and safe running, low vibration, easy for installation.

Compact structure, less space demand and light in weight, easy for transport and installation.

Completely wired, inspected and tested pre-delivery, saving installation time and cost.




Design features

W shape aluminum fin type condenser, assuring adequate heat exchanging area within smaller unit size

High efficient evaporator with internal thread copper tube.

Large air volume axial fan with metal blades. Motor separated from net-cover, fixed on exhaust port by metal

Siemens PLC control, LCD touch screen interface.

Standard design charged R22, CFC Free R407C, R410A, R404A, R134A for option.

380V-415V/50Hz 3pH for standard design. Different design on customers' request.
Description:
China famous brand- Topchiller industrial chiller is one of the most professional manufacturers of Air cooled water chiller, water cooled water chiller, Stainless steel chiller, screw chiller from 0.5KW(0.2Ton)to 1500KW(500Ton), oil chiller, Mold temperature controller units, cooling tower, shell and tube heat exchanger and all refrigeration spare parts. With the faith of "Topchiller---to be a professional industrial chiller factory supplier", TOPCHILLER is devoted all to producing the best quality chiller products with most reasonable price. The main factory and office are both located in Shenzhen, China. where is 1 hour away from Guangzhou.
Related Search