Product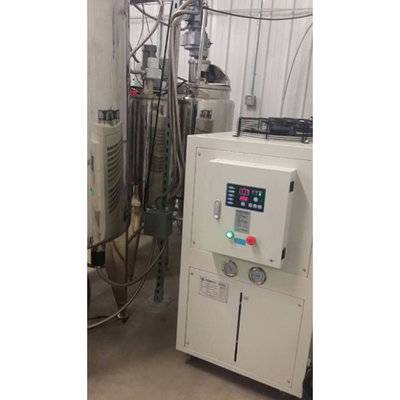 Semi-hermetic Air Cooled scroll Chiller With CE / ISO Certificate
Minimum Order : 1&nbsp,&nbspPieces
Semi-hermetic Air Cooled Scoll Chiller With CE / ISO Certificate
Quick Detail:
1. Temperature controlled7-35℃,precision controlled ±2℃
2. Max. Running current:73.4A
3. Refrigerant charge:26KG
4. Certification:CE & ISO
5. Compressor type: Semi-enclosed screw-type
6. Refrigerating capacity: 86000Kcal/h
7. Warranty:1 year
Description:
Compressor high and low voltage protection, internal overheating protection

Low water flow alarm devices: Low water temperature anti-icing alarm

Compressor imported from Europe, America and Japan(Hanbell Levin Beverly)

Oxygen-free welding from refrigeration system, reduce the oxides and smooth the surface

Denmark Danfoss and USA Eco throttle components

Denmark Danfoss solenoid valve filter

Stainless steel plate, coil type, shell and tube, finned high efficiency heat exchanger

RS485 communication function for automated management(optional)

Brands OMRON, FUJI, TE, LG, MOELLER, ABB and WEST for electric appliances

Control mode: imported microcomputer or PLC(optional)

Perfect safety protection, fault display, easy repair and maintenance even without professionals

High-efficiency evaporator and condenser which can save energy by more than 30%

Temperature control range:7-35℃, Temperature control accuracy:±2℃
China famous brand- Topchiller industrial chiller is one of the most professional manufacturers of Air cooled water chiller, water cooled water chiller, Stainless steel chiller, screw chiller from 0.5KW(0.2Ton)to 1500KW(500Ton), oil chiller, Mold temperature controller units, cooling tower, shell and tube heat exchanger and all refrigeration spare parts. With the faith of "Topchiller---to be a professional industrial chiller factory supplier", TOPCHILLER is devoted all to producing the best quality chiller products with most reasonable price. The main factory and office are both located in Shenzhen, China. where is 1 hour away from Guangzhou.
Related Search