Product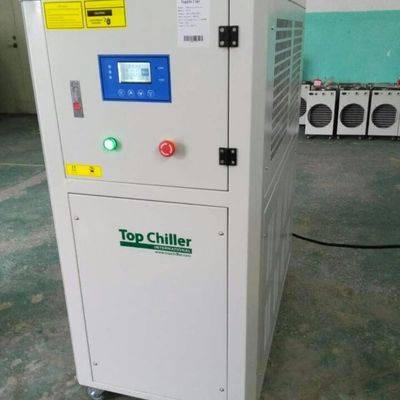 -5°glycol chiller, industrial air cooled glycol chiller, glycol water chiller, glycol chiller unit
Minimum Order : 1&nbsp,&nbspPieces
Air cooled glycol chiller Advantages:
· Glycol water chiller is also called Air cooled low temperature chiller,
is widely used in plastic industry, electrons, plating, chemical industry, ultrasonic wave cooling, printing and others. This kind of air cooled industrail chillers can precisely control the temperature requested by the modernized machinery production, and it greatly improved the production efficiency and quality. Coolsoon air cooled industrial chiller doesn't require cooling tower, which is easy to install and remove.
topchiller low temperature chiller is the best choice for the modernized industry and it features easy operation, reasonable design, high quality and various models.
Also we offer a wide range of standard air cooled low temperature chillers, which can be found in following specification tables, but standard chillers may not always fit your unique requirements. Our application specialists can suggest units that are customized to meet your unique needs.
·
Original famous brand Semi-hermetic piston compressor adopted, features sufficient cooling capacity, stable performance, and excellent quality.
·
Electric components ensure the chiller unit running stably with long service time.
·
Equipped famous brand water pump, with large flow, high efficiency and durability.
·
Compact design, easy to install and operate, convenient to clean and maintenance.
·
High efficient shell and tube evaporator adopted, ensuring high cooling efficiency.
·
Aluminum fin condenser---air cooled type.
·
Shell and tube condenser— Water cooled type.
·
R22, R404A refrigerant for option.
·
380V-415V/50Hz 3pH for standard design. Different design available on request.
China famous brand- Topchiller industrial chiller is one of the most professional manufacturers of Air cooled water chiller, water cooled water chiller, Stainless steel chiller, screw chiller from 0.5KW(0.2Ton)to 1500KW(500Ton), oil chiller, Mold temperature controller units, cooling tower, shell and tube heat exchanger and all refrigeration spare parts. With the faith of "Topchiller---to be a professional industrial chiller factory supplier", TOPCHILLER is devoted all to producing the best quality chiller products with most reasonable price. The main factory and office are both located in Shenzhen, China. where is 1 hour away from Guangzhou.
Related Search