Product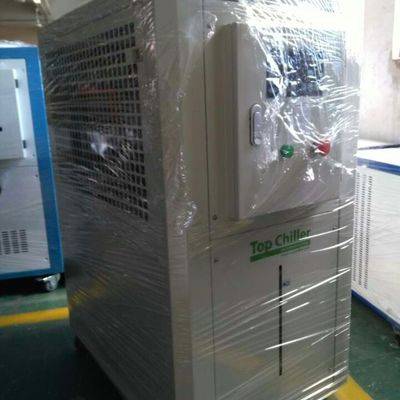 24KW heating use water cooled industry chiller used in Polyurethane thermal insulation
Minimum Order : 1&nbsp,&nbspPieces
Heating and cooling chillers, also called cooling and heating chiller and cold and heating chiller, with dual function for offering hot and cold water designed by TOPCHILLER, is widely used in Plastic products cooling, injection molding machine, extrusion, Foam equipment, Pharmaceutical and chemical industries. It provides the one machine with two functions by offering cooling and heating circulating water, which are widely used in the sponge manufacturing, composite material foaming, medicine .This unit can rush to the cold water temperature to make sure the high production efficiency.
Features of Heat and cold dual use chiller:
Provide cooling or heating circulating water and maintain the temperature tolerance at ±2℃. One button operation, convenient to control temperature.
Original branded compressor from USA & Japan, features with built-in safety protection, low noise, power-saving and durability.
Original SCHNEIDER electrical components.
Intelligent error correction and buzzer alarm system, high level degree of automation.
heating and cooling chiller unit has below advantages:
1. Compact design, light weight and easy for operation.
2. Offering hot water to increase the temperature or cold water to decrease the temperature according to the production demand and temperature can be kept at the set point with variation± 1C, easy to operate, fast to increase and decrease temperature.
3. Original America and Japan brand compressor, featuring built-in safety protection, low noise and long service life.
4. Original SCHNEIDER brand electric components.
5. Open type storage tank equipped, easy for cleaning and maintenance.
6. Complete protection measures, intelligent fault indicator and alarm.
7. Elegant design, with rubber caster, easy for operation and maintenance.
8. Standard design: 3pH 380V/50Hz
9. Options: 3pH 220V/240V/380V/440V/460V 60Hz.
10.R22 charged, CFC free R407C, R410A, R404A, R134A for option.
China famous brand- Topchiller industrial chiller is one of the most professional manufacturers of Air cooled water chiller, water cooled water chiller, Stainless steel chiller, screw chiller from 0.5KW(0.2Ton)to 1500KW(500Ton), oil chiller, Mold temperature controller units, cooling tower, shell and tube heat exchanger and all refrigeration spare parts. With the faith of "Topchiller---to be a professional industrial chiller factory supplier", TOPCHILLER is devoted all to producing the best quality chiller products with most reasonable price. The main factory and office are both located in Shenzhen, China. where is 1 hour away from Guangzhou.
Related Search